November 2017:  Photos with Santa
Thank You to Pet Supplies Plus in Mundelein for having Selfies with Santa!  And lets not forget to thank Santa Ken Aaland!
August 2017:  Chicago Fall Pet Shows


A couple of pictures from our booths at the Libertyville and Kane County Pet Expos.  Shout outs to Sandra Worthy and Ken Aaland that helped make them possible.  We also cannot forget the people that came out to support our cause.
March 2017:  Arlington Pet Expo


We want to thank our loyal volunteers for helping us at our booth at the 2017 Arlington Park Pet Expo.  Marcia Oswald, Sandra Worthy, Jori Johnson, Nicole Englese, Ken and Peggy Aaland.  It was 3 long days of achy feet and tired backs, but it was all well worth it to raise money for the foster animals care and to see former adopters and pictures of their "kids" grown up.  Thank you all for your support!
January 2017 – Chicagoland Pet Show
Thank you to everyone that stopped by and supported us at the Chicagoland Pet Expo. Thank you to Sandy Worthy, Ken Aaland and Marcia Oswald for their help during the event.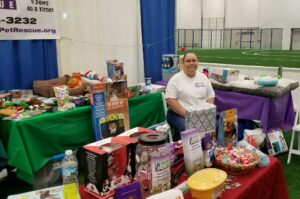 December 2016 – Photos with Santa


A big Thank You goes out to everyone that brought their animals out for Santa pictures in this extremely cold weather.  100% of the picture cost comes to us for care & supplies for our foster animals.  We want to thank the Petco employees for their help and Santa Ken for giving his time to help us and the Petco Foundation for their support.
September 2016 – Fall Festival & Pet Expo
I can't remember when we had such a beautiful day for the Fall Festival & Pet Expo at DCACC. Sunshine and animals, you can't ask for anything more. Over 30 vendors and rescue groups were present and lets not forget our 4 legged friends! Music, raffles, food and beverages. Thank you DCACC for inviting Home At Last to the event, and thank you to Sandra Worthy for helping me at our booth.
All for the love of saving more animals.
July 2016 – Winy City Pet Expo




Hot fun in the city at the Windy City Pet Expo! Two days of costume contests, free nail trims, snakes, bunnies, dog & cats. There were pet related vendors and non-animal vendors and everyone had a great time. We were partnered with Pure Ayre Odor Eliminator for pets (www.PureAyre.com or 877-PUREAYRE) which is a great product, 100% biodegradable & food grade, and best of all it works great! After the show they donated $243 to us from their sales which is GREATLY appreciated. Thank you to volunteers Sandra Worthy, Marcia Oswald and Ken Aaland and of course Peggy Aaland for making our booth a success.
July 2016 – Christmas in July
Santa Cubs, I mean Santa Claus, had a great time with the animals having their pictures taken for Christmas in July at Petco. Thank you all for your support!
March 2016 – Chicago Pet Expo



Three days and achy bodies later, we had a great time at the Arlington Pet Expo this past weekend. We could not have done it without volunteers Sandy Worthy, Samantha & Nicole Englese, Marcia Oswald, Jorie Johnson and Sara Kelley. A special thanks to my wonderful husband Ken bringing everything there, set up and take down, with superwoman Marcia Oswald. Everyone is greatly appreciated by the animals for what they do for them.
December 2015 – Santa Picture Day



Below are some beautiful photos from our Santa Picture Day at Petco, courtesy of "Elf" Petco employee, Colleen Barton. A big "thank you" to her for doing this, our Santa, Ken Aaland, and of course Petco for sponsoring the event for their giving foundation.
November 2015 – Pet Show Expo
We had a great time meeting new friends at the November Pet Expo at the Kane County Fairgrounds this month. We could not have done it without volunteers Sandra Worthy, Nicole Englese, Marcia Oswald and Ken & Peggy Aaland. We are always looking to find new homes for the fosters and working to raise the funds to take care of their medical needs and groceries.
September 2015 – Pet Show Expo

 

A big thank you for all that came to the two day pet expo at the Darien Sportsplex. There were no adoptions but there was alot of support given for the care of our foster animals. Our thanks also go out to volunteers Sandra Worthy, Joyce Kuhns, Michelle Fecarotta and Ken & Peggy Aaland for making this event a success. Stay tuned for news of our next event!
July 2015:  Windy City Pet Expo


Below are pictures of our booth at the Windy City Pet Expo. Shorty Rossi was there along with lots of dogs, cats and reptiles. It was a tiring day but worth being there to raise much needed funds to support the fosters. Thanks to Michelle Fecarotta, Joyce Kuhns and Ken & Peggy Aaland for handling the booth. Enjoy the pictures!
March 2015:  Chicagoland Pet Expo
Well, my first Chicagoland Pet Expo is over and I could not have done it without the help from volunteers. I want to thank Sandy Worthy, Jori Johnson, Janice Corey, Marcia Oswald, Joyce Kuhns, Lynn Golden, Caryn Schrenzel, Dee Schwartz and Ken Aaland. Last but not least I cannot forget to thank everyone that stopped by the booth to show us their support. The pictures are not the greatest, so I do apologize.

2/1/15:  Pounds for Pounds Weigh-In Challenge


This event was sponsored by Blue Buffalo. Unleashed stores had their doggy customers weigh in and reach 2,000 pounds. Unleashed in Hoffman Estates did and presented a $500 gift card to Home At Last. Thank you to all that participated to make this happen for us!
12/13/14 – Photos with Santa
Santa is very tired after having such a wonderful and busy photo session at Unleashed by Petco today. He had lots and lots of licks from dogs of all sizes and shapes. But he loved it, Santa enjoys doing things to help raise money to support our animals. Thanks Santa, we couldn't have done it without you Ken Aaland, and to all that came for their photo and to support us! We want to give a big shout out to store employees Jason, Mike and Kaylee for their help also.

12/6/14 – Photos with Santa
On December 6th, Home At Last Pet Rescue had their 1st Photos with Santa session.  It was held at the Unleashed by Petco in Hoffman Estates at 1425 Palatine Road.  Santa was a big hit with dogs of all sizes and lets not forget his picture with the foster kitties that attended the adoption show there.  Ken Aaland just loves volunteering his time to help raise donations for the organization.  If you forgot to come out this time, there is always December 13th, same place, same time, 1pm to 4pm and there will also be kitties for adoption

11/8/14-11/9/14     Chicago Pet Expo
Home At Last Pet Rescue was at Chicago Pet Expo on Nov. 8th & 9th at the Kane County Fair Grounds. It had some unusual vendors, like Bubba the alligator, Red Tail Hawks and Peregrines and we can't forget both cat and dog rescue groups. We want to thank volunteers, Sandy Worthy, Joyce Kuhns, Kristi Hanson and Peggy & Ken Aaland for helping spread the word on our organization. A tiring two days, but well worth it to raise money to help the animals.

9/20/14 – DCACC Fall Festival Pet Expo & Adopt-a-Thon
Home at Last attended their first pet expo on September 20th AND celebrated their first adoption on September 22nd! Mother Nature didn't completely co-operate at the outdoor affair, and it had to end after just a few hours. It was good seeing old friends and meeting new ones and a big thank you shout out to Sandy Worthy and Ken Aaland for helping at the event.

10/5/14 – Paws In the Park|
Mother nature didn't want to co-operate for the Paws in the Park event on the 5th. Winds were howling and blowing merchandise as fast as they were put out for display, and several vendors canopies were also destroyed. And then to top it off, the Bears lost! But Ken and Peggy Aaland, stuck it out like real troopers to make the event a success for Home At Last. A big thank you to all that came to support the animals.